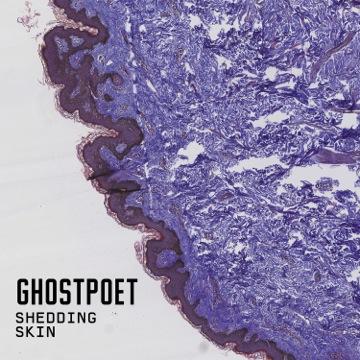 Shedding Skin
BY
Ghostpoet
Sein Debüt hat 2011 in der britischen Musikwelt große Begeisterung erregt und Ghostpoet eine Nominierung für den
Mercury Prize
gebracht.
Peanut Butter Blues & Melancholy Jam
war trübe und niederdrückend, aber gleichzeitig sehr klar in seinem Stil. Ghostpoet wurde sofort neben Namen wie
Roots Manuva
oder
The Streets
gestellt, hatte jedoch mit einer besonderen Mischung aus Sprachgesang, Trip-Hop, Dub und UK Garage seine eigene Marke gebildet. Zwei Jahre später behielt das Nachfolgeralbum den urbanen Charakter des Debüts und schien noch mehr von Entfremdung und Eskapismus in einer Metropole geprägt zu sein. Ghostpoet nahm noch mehr das Tempo raus, probierte langgezogene Songstrukturen aus und übte sich in Friemelarbeit mit elektronischer Musik. Etwas unterkühlt und düster konnte
Some Say I So I Say Light
nicht alle Fans des Debüts begeistern.
Und gerade dachte man vielleicht, man würde die Entwicklung von Ghostpoet einschätzen können, kommt 2015 das dritte Album Shedding Skin heraus und ist eine weitere Überraschung. Obaro Ejimiwe aka Ghostpoet bleibt nicht stehen und sucht nach neuen Einflüssen. So stellt er alles auf den Kopf. Diesmal geht der Brite nicht alleine ins Studio, sondern nimmt das neue Album in Begleitung seiner bisherigen Tourband auf.
I wanted a consistent sonic direction throughout the record. I was definitely seeking coherency. And I wanted my mates!
Eine E-Gitarre, ein Bass und ein Schlagzeug nehmen den Platz der Synthesizer ein. Es ist wieder schneller, zackiger und auf den Punkt. In vielen Songs begleiten Ghostpoet weitere Musiker, u.a. Paul Smith von Maxïmo Park, Lucy Rose oder Melanie De Biasio.
For this album, it felt silly to focus just on how great, or not, my own life is. My life is only one amongst millions. And that's the attitude of it.
So wendet sich Ghostpoet gesellschaftlichen Problemen zu, die er nur durch Beobachtung und hohen Maß an Empathie so genau beschreiben kann. Obdachlosigkeit ("Shedding Skin"), Alkoholismus und Selbstmord ("Yes, I Helped You Pack") sind einige davon. Es findet sich auch Platz für dramatische Trennung, emotionale Abhängigkeit vom Ex-Geliebten ("That Ring Down The Drain Feeling") oder für den Morgen nach einem One-Night-Stand ("Sorry My Love, It's You Not Me").
In der Problematik seiner Geschichten lässt sich weiterhin der Einfluss Londons erkennen. Doch die Unterschiede des Musikalischen werden den einen oder anderen Fan bestimmt überraschen. Während die Rhythmussektionen seiner Songs gut den Sprachgesang von Ghostpoet untermauern, würde man sich an einigen Stellen wünschen, dass die Melodieelemente weniger präsent und weniger offensichtlich bleiben. Auf Shedding Skin findet man mächtige Passagen verzerrter Gitarren ("Better Not Butter") oder stimmungsvoller Streicher ("Nothing In The Way"), die doch weit von früheren Alben von Ghostpoet entfernt sind. So wirkt das Album manchmal etwas überladen und lässt einen Wunsch offen: Mehr Ghostpoet in Ghostpoet!
Shedding Skin ist ein mutiges, persönliches Experiment und überzeugt mit guter Energie, die der Bandunterstützung zu verdanken ist. So liefert Ghostpoet ein Album, das sich perfekt auf die Bühne übertragen lässt. Unverändert liegt eine große Stärke in seinen Texten, mit denen man sich unbedingt näher beschäftigen sollte um den Wert von Shedding Skin einschätzen zu können.